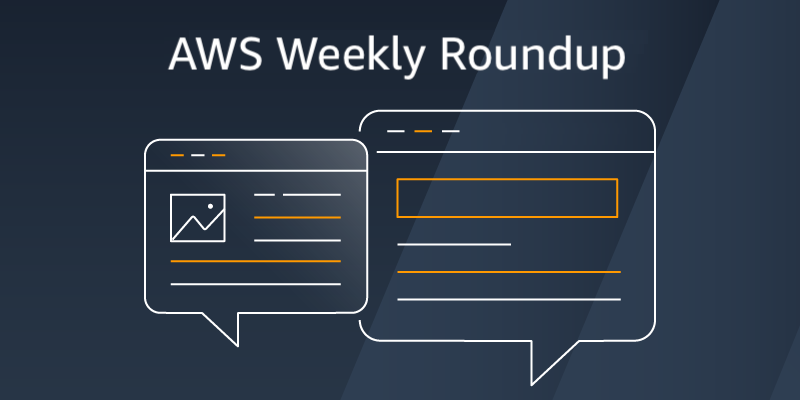 The year is coming to an end, and there are only 50 days until Christmas and 21 days to AWS re:Invent! If you are in Las Vegas, come and say hi to me. I will be around the Serverlesspresso booth most of the time.
Last week's launches
Here are some launches that got my attention during the previous week.
Amazon EC2 – Amazon EC2 announced Capacity Blocks for ML. This means that you can now reserve GPU compute capacity for your short-duration ML workloads. Learn more about this launch on the feature page and announcement blog post.
Finch – Finch is now generally available. Finch is an open source tool for local container development on macOS (using Intel or Apple Silicon). It provides a command line developer tool for building, running, and publishing Linux containers on macOS. Learn more about Finch in this blog post written by Phil Estes or on the Finch website.
AWS X-Ray – AWS X-Ray now supports W3C format trace IDs for distributed tracing. AWS X-Ray supports trace IDs generated through OpenTelemetry or any other framework that conforms to the W3C Trace Context specification.
Amazon Translate – Amazon Translate introduces a brevity customization to reduce translation output length. This is a new feature that you can enable in your real-time translations where you need a shorter translation to meet caption size limits. This translation is not literal, but it will preserve the underlying message.
AWS IAM – IAM increased the actions last accessed to 60 more services. This functionality is very useful when fine-tuning the permissions of the roles, identifying unused permissions, and granting the least amount of permissions that your roles need.
AWS IAM Access Analyzer – IAM Access Analyzer policy generator expanded support to identify over 200 AWS services to help you create fine-grained policies based on your AWS CloudTrail access activity.
For a full list of AWS announcements, be sure to keep an eye on the What's New at AWS page.
Other AWS news
Some other news and blog posts that you may have missed:
AWS Compute Blog – Daniel Wirjo and Justin Plock wrote a very interesting article about how you can send and receive webhooks on AWS using different AWS serverless services. This is a good read if you are working with webhooks on your application, as it not only shows you how to build these solutions but also what considerations you should have when building them.
AWS Storage Blog – Bimal Gajjar and Andrew Peace wrote a very useful blog post about how to handle event ordering and duplicate events with Amazon S3 Event Notifications. This is a common challenge for many customers.
Amazon Science Blog – David Fan wrote an article about how to build better foundation models for video representation. This article is based on a paper that Prime Video presented at a conference about this topic.
The Official AWS Podcast – Listen each week for updates on the latest AWS news and deep dives into exciting use cases. There are also official AWS podcasts in several languages. Check out the ones in French, German, Italian, and Spanish.
AWS open-source news and updates – This is a newsletter curated by my colleague Ricardo to bring you the latest open source projects, posts, events, and more.
Upcoming AWS events
Check your calendars and sign up for these AWS events:
AWS Community Days – Join a community-led conference run by AWS user group leaders in your region: Ecuador (November 7), Mexico (November 11), Montevideo (November 14), Central Asia (Kazakhstan, Uzbekistan, Kyrgyzstan, and Mongolia on November 17–18), and Guatemala (November 18).
AWS re:Invent (November 27–December 1) – Join us to hear the latest from AWS, learn from experts, and connect with the global cloud community. Browse the session catalog and attendee guides and check out the highlights for generative artificial intelligence (AI).
That's all for this week. Check back next Monday for another Weekly Roundup!
— Marcia
This post is part of our Weekly Roundup series. Check back each week for a quick roundup of interesting news and announcements from AWS!