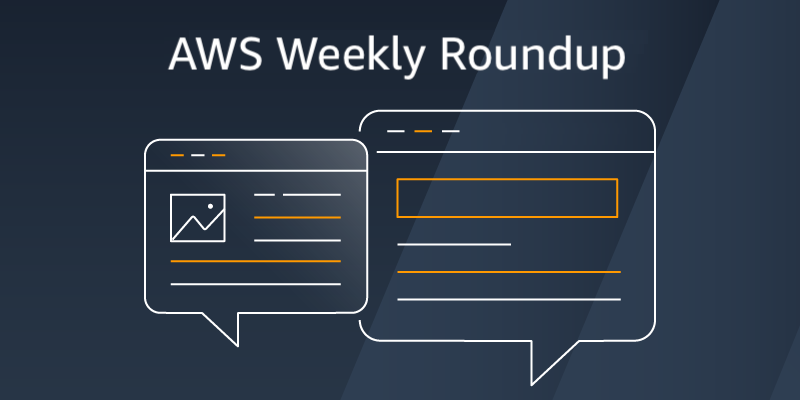 The entire AWS News Blog team is fully focused on writing posts to announce the new services and features during our annual customer conference in Las Vegas, AWS re:Invent! And while we prepare content for you to read, our services teams continue to innovate. Here is my summary of last week's launches.
Last week's launches
Here are some of the launches that captured my attention:
Amazon CodeCatalyst – You can now add a cron expression to trigger a CI/CD workflow, providing a way to start workflows at set times. CodeCatalyst is a unified development service that integrates a project's collaboration tools, CI/CD pipelines, and development and deployment environments.
Amazon Route53 – You can now route your customer's traffic to their closest AWS Local Zones to improve application performance for latency-sensitive workloads. Learn more about geoproximity routing in the Route53 documentation.
Amazon RDS – The root certificates we use to sign your databases' TLS certificates will expire in 2024. You must generate new certificates for your databases before the expiration date. This blog post details the procedure step by step. The new root certificates we generated are valid for the next 40 years for RSA2048 and 100 years for the RSA4098 and ECC384. It is likely this is the last time in your professional career that you are obliged to renew your database certificates for AWS.
Amazon MSK – Replicating Kafka clusters at scale is difficult and often involves managing the infrastructure and the replication solution by yourself. We launched Amazon MSK Replicator, a fully managed replication solution for your Kafka clusters, in the same or across multiple AWS Regions.
Amazon CodeWhisperer – We launched a preview for an upcoming capability of Amazon CodeWhisperer Professional. You can now train CodeWhisperer on your private code base. It allows you to give your organization's developers more relevant suggestions to better assist them in their day-to-day coding against your organization's private libraries and frameworks.
Amazon EC2 – The seventh generation of memory-optimized EC2 instances is available (R7i). These instances use the 4th Generation Intel Xeon Scalable Processors (Sapphire Rapids). This family of instances provides up to 192 vCPU and 1,536 GB of memory. They are well-suited for memory-intensive applications such as in-memory databases or caches.
X in Y – We launched existing services and instance types in additional Regions:
Other AWS news
Here are some other blog posts and news items that you might like:
The Community.AWS blog has new posts to teach you how to integrate Amazon Bedrock inside your Java and Go applications, and my colleague Brooke wrote a survival guide for re:Invent first-timers.
The Official AWS Podcast – Listen each week for updates on the latest AWS news and deep dives into exciting use cases. There are also official AWS podcasts in several languages. Check out the ones in French, German, Italian, and Spanish.
Some other great sources of AWS news include:
Upcoming AWS events
Check your calendars and sign up for these AWS events:

AWS Community Days – Join a community-led conference run by AWS user group leaders in your region: Jaipur (November 4), Vadodara (November 4), and Brasil (November 4).
AWS Innovate: Every Application Edition – Join our free online conference to explore cutting-edge ways to enhance secu
rity and reliability, optimize performance on a budget, speed up application development, and revolutionize your applications with generative AI. Register for AWS Innovate Online Asia Pacific & Japan on October 26.

AWS re:Invent (November 27 – December 1) – Join us to hear the latest from AWS, learn from experts, and connect with the global cloud community. Browse the session catalog and attendee guides and check out the re:Invent highlights for generative AI.
You can browse all upcoming in-person and virtual events.
And that's all for me today. I'll go back writing my re:Invent blog posts.
Check back next Monday for another Weekly Roundup!
— seb
This post is part of our Weekly Roundup series. Check back each week for a quick roundup of interesting news and announcements from AWS!