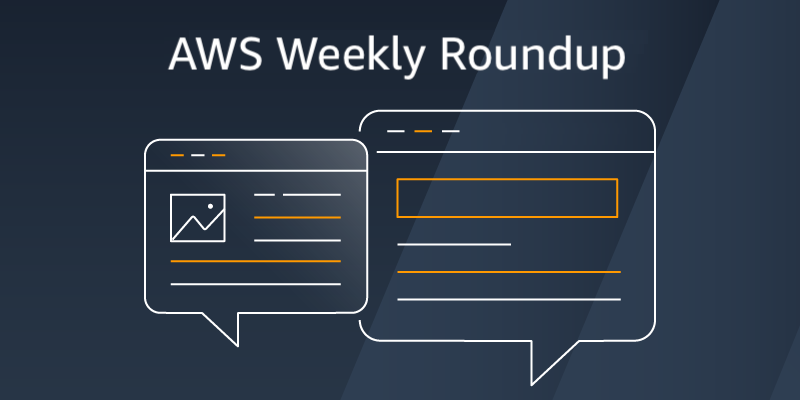 As the Northern Hemisphere enjoys early fall and pumpkins take over the local farmers markets and coffee flavors here in the United States, we're also just 50 days away from re:Invent 2023! But before we officially enter pre:Invent sea­­son, let's have a look at some of last week's exciting news and announcements.
Last Week's Launches
Here are some launches that got my attention:
AWS Control Tower – AWS Control Tower released 22 proactive controls and 10 AWS Security Hub detective controls to help you meet regulatory requirements and meet control objectives such as encrypting data in transit, encrypting data at rest, or using strong authentication. For more details and a list of controls, check out the AWS Control Tower user guide.
Amazon Bedrock – Just a week after Amazon Bedrock became available in AWS Regions US East (N. Virginia) and US West (Oregon), Amazon Bedrock is now also available in the Asia Pacific (Tokyo) AWS Region. To get started building and scaling generative AI applications with foundation models, check out the Amazon Bedrock documentation, explore the generative AI space at community.aws, and get hands-on with the Amazon Bedrock workshop.
Amazon OpenSearch Service – You can now run OpenSearch version 2.9 in Amazon OpenSearch Service with improvements to search, observability, security analytics, and machine learning (ML) capabilities. OpenSearch Service has expanded its geospatial aggregations support in version 2.9 to gather insights on high-level overview of trends and patterns and establish correlations within the data. OpenSearch Service 2.9 now also comes with OpenSearch Service Integrations to take advantage of new schema standards such as OpenTelemetry and supports managing and overlaying alerts and anomalies onto dashboard visualization line charts.
Amazon SageMaker – SageMaker Feature Store now supports a fully managed, in-memory online store to help you retrieve features for model serving in real time for high throughput ML applications. The new online store is powered by ElastiCache for Redis, an in-memory data store built on open-source Redis. The SageMaker developer guide has all the details.
Also, SageMaker Model Registry added support for private model repositories. You can now register models that are stored in private Docker repositories and track all your models across multiple private AWS and non-AWS model repositories in one central service, simplifying ML operations (MLOps) and ML governance at scale. The SageMaker Developer Guide shows you how to get started.
Amazon SageMaker Canvas – SageMaker Canvas expanded its support for ready-to-use models to include foundation models (FMs). You can now access FMs such as Claude 2, Amazon Titan, and Jurassic-2 (powered by Amazon Bedrock) as well as publicly available models such as Falcon and MPT (powered by SageMaker JumpStart) through a no-code chat interface. Check out the SageMaker Developer Guide for more details.
For a full list of AWS announcements, be sure to keep an eye on the What's New at AWS page.
Other AWS News
Here are some additional blog posts and news items that you might find interesting:
Behind the scenes on AWS contributions to open-source databases – This post shares some of the more substantial open-source contributions AWS has made in the past two years to upstream databases, introduces some key contributors, and shares how AWS approaches upstream work in our database services.
Fast and cost-effective Llama 2 fine-tuning with AWS Trainium – This post shows you how to fine-tune the Llama 2 model from Meta on AWS Trainium, a purpose-built accelerator for LLM training, to reduce training times and costs.
Code Llama code generation models from Meta are now available via Amazon SageMaker JumpStart – You can now deploy Code Llama FMs, developed by Meta, with one click in SageMaker JumpStart. This post walks you through the details.
Upcoming AWS Events
Check your calendars and sign up for these AWS events:
Build On Generative AI – Season 2 of this weekly Twitch show about all things generative AI is in full swing! Every Monday, 9:00 US PT, my colleagues Emily and Darko look at new technical and scientific patterns on AWS, invite guest speakers to demo their work, and show us how they built something new to improve the state of generative AI. In today's episode, Emily and Darko discussed how to translate unstructured documents into structured data. Check out show notes and the full list of episodes on community.aws.

AWS Community Days – Join a community-led conference run by AWS user group leaders in your region: DMV (DC, Maryland, Virginia) (October 13), Italy (October 18), UAE (October 21), Jaipur (November 4), Vadodara (November 4), and Brasil (November 4).

AWS Innovate: Every Application Edition – Join our free online conference to explore cutting-edge ways to enhance security and reliability, optimize performance on a budget, speed up application development, and revolutionize your applications with generative AI. Register for AWS Innovate Online Americas and EMEA on October 19 and AWS Innovate Online Asia Pacific & Japan on October 26.

AWS re:Invent (November 27 – December 1) – Join us to hear the latest from AWS, learn from experts, and connect with the global cloud community. Browse the session catalog and attendee guides and check out the re:Invent highlights for generative AI.
You can browse all upcoming in-person and virtual events.
That's all for this week. Check back next Monday for another Weekly Roundup!
— Antje
This post is part of our Weekly Roundup series. Check back each week for a quick roundup of interesting news and announcements from AWS!